There are Many Restoration Companies Out There. Here's Why We're Different.
1/27/2021 (Permalink)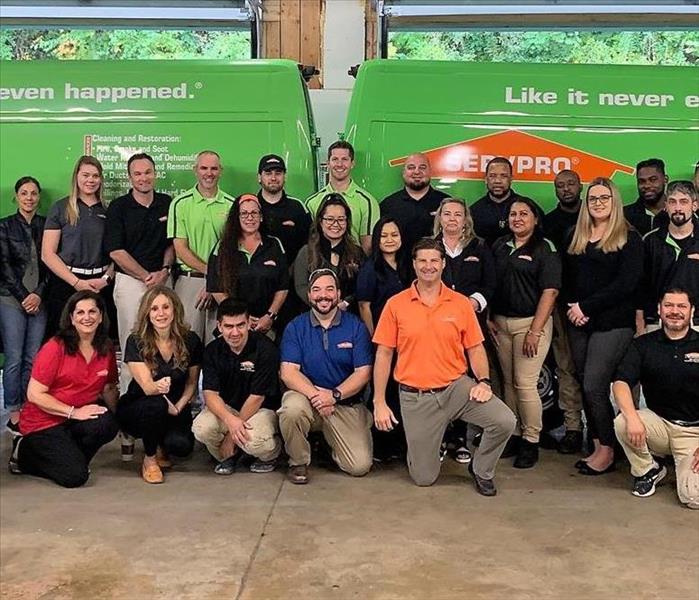 We know that when choosing a restoration company after you have experienced water, fire, mold, storm or biohazard damage, you may do an internet search and see ads from several restoration companies. Most of our customers have little knowledge of the restoration process and are in a stressed state due to the damage to their home or business. The decision of which restoration company to choose may be overwhelming.
At SERVPRO of Southbury/Torrington, we strive to stand out from the rest by giving our customers the very best service from beginning to end. Our office staff, Kathy, Theny, Alexis and Keri, have all been with us for years and have extensive knowledge of the restoration process. When you call our office, you may have many questions about our restoration work or how to handle your insurance claim. Our staff helps guide customers through the process and is available to answer all of your questions.
Although SERVPRO is a national corporation, the owner of our franchise, Greg Geaski, and the rest of our team live locally and are part of the community. We have teams on call and ready to respond to emergencies 24 hours a day. This is our community and we treat our customers as we would a neighbor. We know that having strangers in your home isn't always easy on a homeowner. Our crew is a group of friendly and respectful men and women who our customers feel at ease with. Every job is assigned a Production Manager who is available should you have any concerns or questions about the work being done.
You may be surprised to learn that there are no federal requirements for the restoration industry. At SERVPRO of Southbury/Torrington, we believe that training and education is an important factor in why we are so successful. As part of a national franchise system that has been the nation's leader in the water and fire restoration industry for 50 years, all of the training that SERVPRO has to offer is available to us. We also send our team members to classes through the IICRC for advanced training. Whereas, in general, there is a high turnover in the restoration industry, most of our team members have been with us for years- several for over 10 years! Decades of restoration work has provided our restoration technicians with the experience and expertise not found in a classroom.
After the water has been cleaned up and the fire damaged walls removed from your home, our building services team will rebuild your home to make it "Like it never even happened," (or better!). Our construction team is licensed by the State of Connecticut and does beautiful work. Whether you need your roof boarded up, your wood floors replaced or a new kitchen installed, we will repair your home and make it shine again.
Not only do we restore homes in Hartford and Litchfield Counties, we are also the area's first choice for commercial restoration work. We understand that business owners have unique concerns when their building experiences water or smoke damage. With inventory at risk of becoming damaged, customer and employee safety concerns and the cost of having your doors closed for any length of time, your commercial business needs a quick, professional response. We have the equipment and team to handle large scale commercial property restoration including smoke and soot damage, flooding caused by a sprinkler malfunction, public toilet or sewage backups, apartment complex fires and roof leaks. Whatever your restoration needs, you can count on our team to get your business back in business quickly.
At SERVPRO of Southbury/Torrington, we've assembled the best team of local folks who are highly trained and experienced in the water, fire and mold restoration industry. Customer satisfaction is our number one priority and we are here to make the restoration process on your home or business go a smoothly as possible. From your first call until the restoration is complete, we will be with you every step of the way.