When are Professional Mold Remediation Services Needed?
6/21/2021 (Permalink)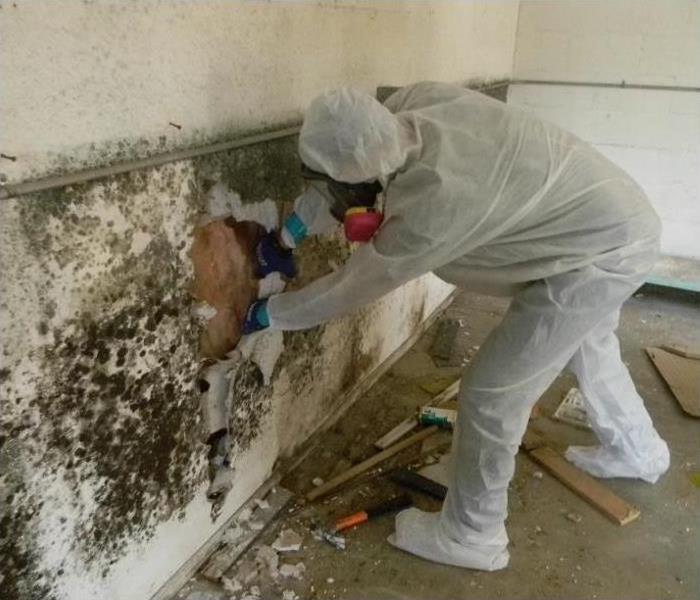 With all of the attention and media coverage about household mold, and its associated health effects, the office staff at SERVPRO of Southbury/Torrington often field phone calls from concerned homeowners who have discovered mold in their home.
Unfortunately, the internet is full of misinformation on what is effective and safe mold removal - such as the misconception that bleach kills mold (it does not). While there are some cases where a small area of mold on a non-porous surface can be effectively cleaned by a homeowner themselves, we recommend having a SERVPRO IICRC trained professional come and inspect your home. Our team has decades of experience and training that they use to identify your mold situation and advise you on a course of action.
Mold spores are microscopic, float along in the air, and may enter your home through windows, doors, or AC/heating systems or even hitch a ride indoors on your clothing or a pet. A homeowner may have cleaned all visible evidence of mold from a hard surface yet not know the level of mold spores in the air and how it is affecting their home and their health. Mold spores also root into porous surfaces such as carpeting, wood and sheet rock walls and ceilings. So if you scrub down black mold on your windowsill, the mold might appear to have been removed but actually is still present inside of the wood and will reappear.
Mold is a sign that there is a problem in your home. Whether it's a leaky pipe behind a wall that you can't see, water behind some boxes in your basement or inadequate venting in your attic that is causing high humidity, the cause of the mold in your home is something that needs to be addressed.
Give us a call if you spot mold in your home. We will schedule an appointment for one of our mold specialists to come out to your house, survey the situation and give you an honest opinion of what action needs to be taken.