The Green Machines and What They Do
7/14/2022 (Permalink)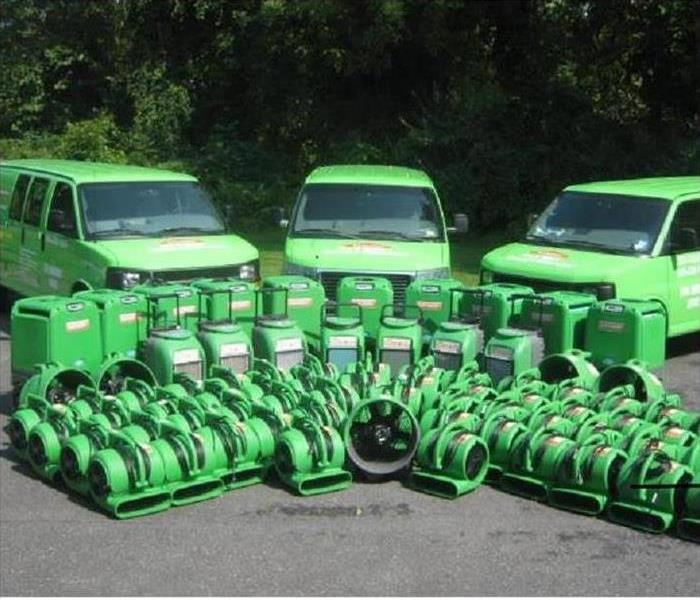 Your Southbury area business has had water damage. Perhaps a pipe has broken, a toilet overflowed or your coffee maker line sprung a leak.
You've called SERVPRO of Southbury/Torrington and have been assured that the crew is on their way to clean up the mess. After our property manager has inspected your property, work will begin based on their assessment. The crew will start to unload the trucks and begin work. While the bright green equipment is getting set up throughout your facility, you will likely wonder what all of it does.
When water damage occurs, we typically use the following equipment.
Air Mover and/or Axial Fans: Professional grade air movers and axial fans produce more air movement than a standard household fan. The higher volume of air being moved increases the rate of evaporation, helping to dry the structure as quickly as possible.
Dehumidifiers: A dehumidifier removes water vapor from the air by condensing it out against refrigerated fins. The water is stored and then periodically purged from the machine by use of plastic tubing. The tubing will generally be run so that it dumps water down a drain, such as a bath tub or sink, or sometimes out a window or door. Professional dehumidifiers pull much more vapor from the air than a household dehumidifier. In this way they are generally more efficient.
Air Scrubbers: An air scrubber might be used if your loss is a result of water classified as grey or black, which means that it came from a contaminated source or through building materials. These machines remove airborne particulates by trapping them in HEPA filters. Air Scrubbers are also used in cases where a customer has a health condition that requires the air quality be monitored.
Specialty Drying Equipment: There are a variety of different tools available to our technicians for use in specialty circumstances. For instance, a floor drying mat system allows the technician to create a vacuum system for removing moisture from hardwood floors, in order to try to dry them in place. This helps the floor dry faster, and generally gives us a better chance of saving the hardwood flooring.
If you have any questions about the equipment being used during the restoration of your commercial property, our crew chiefs and technicians are always available to explain the process and what the function of each of those machines in your building is.
We understand that our customers are not experts in water damage restoration. When you have water damage, we are here to help restore your property quickly and efficiently.