Water and Fire Damage Restoration at Area Restaurants
8/15/2022 (Permalink)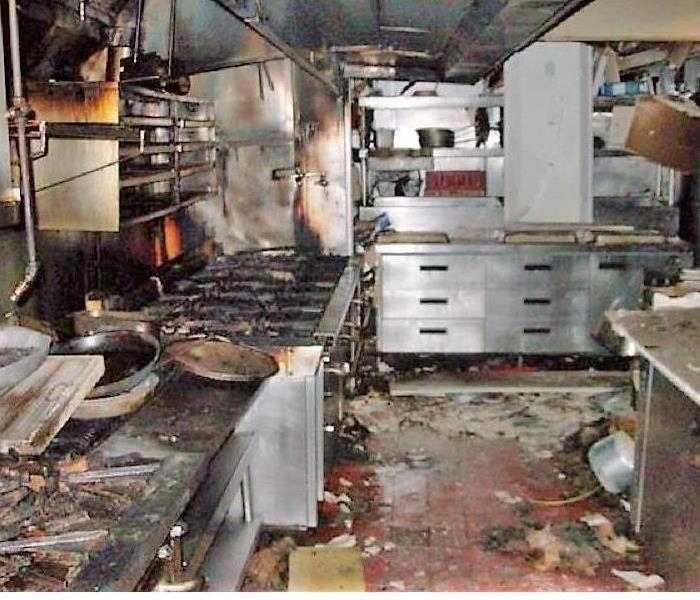 Restaurant owners know that it is an unpredictable business.
Anything can be thrown your way and an experienced owner is an expert at handling emergencies quickly and adeptly as they arise. Restaurants are particularly susceptible to water, fire and mold problems and our franchise receives calls on a regular basis from restaurant owners who require our restoration services.
With several cooks in the kitchen and hot stoves going all day long, kitchen fires occur frequently. Even a small fire in your commercial kitchen might necessitate a temporary shut down of your restaurant. The smoke odor quickly spreads throughout the restaurant, is absorbed into upholstered chairs, carpeting, walls and drapery. SERVPRO of Southbury/Torrington uses specialized equipment and techniques to remove smoke and soot from ceilings, walls, and other surfaces.
Often in conjunction with fire damage in restaurants is water damage from rescue efforts. The water damage can originate from a sprinkler system setting off in response to detected smoke or from the fire department's rescue efforts. Some of our clients have also had water damage in their restaurants due to a burst pipe, appliance malfunction or human error. Regardless of the cause, it is important to call us to restore your building immediately. A failure to properly address water damage in your restaurant can lead to additional problems such as mold growth.
Mold in restaurants can be particularly troubling as the environment (water and steam) has high humidity levels, creating prime real estate for mold growth. Any mold discovered in your restaurant requires professional remediation. Mold might grow behind walls or ceiling tiles, flooring or even under your restaurant carpeting (think of how many drinks are spilled every day).
If you own a restaurant in the Torrington area, give us a call at (203) 267-6262. We will schedule an appointment to come out and discuss any current concerns that you have for your building as well as set up an Emergency Ready Profile, which will enable you to quickly act if your restaurant does have fire, water or mold damage in the future.