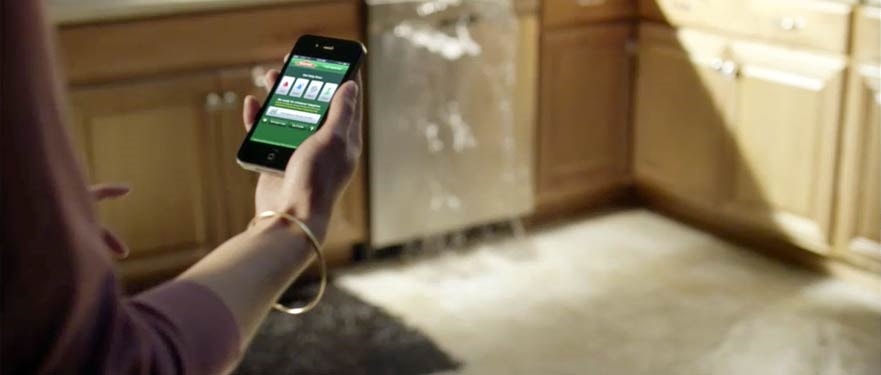 Water Damage Emergency Tips
What you can do until help arrives
Water Tips  |  Fire Tips   |  Biohazard Tips   |  Mold Tips
If your home or business has had water damage, the first step you should take is to assess the safety of the situation. There are several scenarios in which it is not safe to remain in a building after water damage occurs. If the source of the water might be contaminated because it from flooding or a sewage backup, for example, we recommend avoiding any unnecessary contact with the water. Another concern that a homeowner should be mindful of is whether there are water saturated ceilings or floors that might be structurally compromised and in danger of collapsing. Additionally, if there is any question that there might be an electrical hazard, it is best to wait for emergency services to inspect the building.
Many of the water damage emergencies in the Watertown area are caused by frozen pipes that burst, toilet back ups, appliance leaks and basement flooding. Upon discovery of the water damage, you will need to call your local plumber, electrician or fire department. If the flooding is caused by a public water or sewer system failure, you may need to call your town utilities department. Call SERVPRO of Southbury/Torrington immediately as well. The quicker we can start the mitigation process, the better. While you wait for help to arrive, there are some steps that you can take to minimize the damage.
Have A  Water Damage Emergency? Call (203) 267-6262
What To Do After Flooding
Remove excess water by mopping and blotting.
Wipe excess water from wood furniture after removal of lamps and tabletop items.
Remove and prop wet upholstery and cushions.
Place aluminum foil or wood blocks between furniture legs and wet carpeting.
Turn air conditioning on for maximum drying in summer.
Remove colored rugs from wet carpeting.
Remove art objects to a safe, dry place.
Gather loose items from floors.
What NOT To Do After Flooding
Don't leave wet fabrics in place. Hang furs and leather goods.
Don't leave books, magazines or other colored items on wet carpet or floors.
Don't use your household vacuum to remove water.
Don't use television or other household appliances.
Don't turn on ceiling fixtures if ceiling is wet, and keep out of rooms where ceilings are sagging.